With the release of the next version of Chrome later this year, Google will begin to mark all HTTP pages as "Not Secure" in chrome.
Earlier this year, 
Google started to label some pages in HTTP
 as non-secure. This phase affected pages that transmit sensitive information such as login and payment-card data on the web. The not-secure label indicated that data was being exchanged on an unencrypted connection. HTTPS, the secure version of HTTP, offers better protection for your site and your user's information.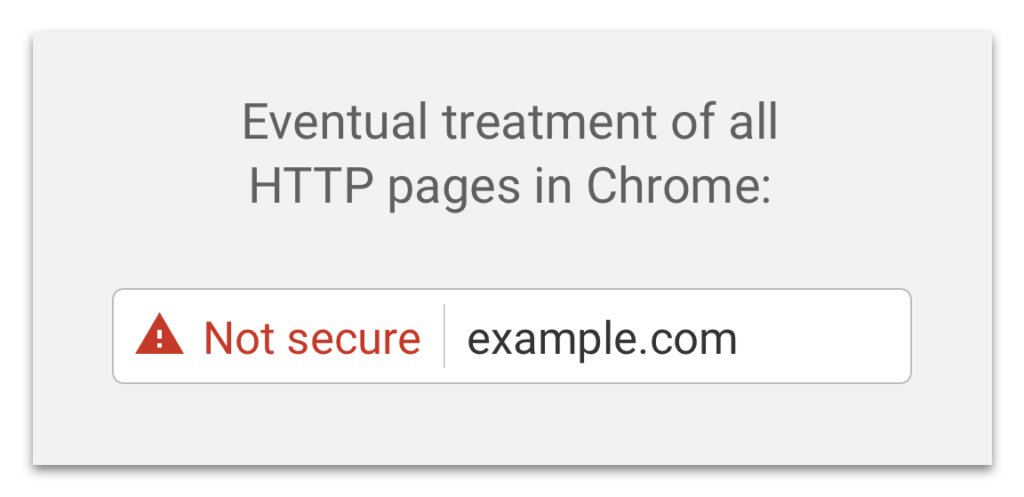 Does this affect you? Probably!
Any page with a search box or form that allows a user to input ANY data, no matter how simple, will be affected. Google will flash a "Not Secure" warning when users type data into sites.
Why Should you care?
Users will be confused. Is my data safe? Can someone see everything on my computer? Is someone hacking me right now? These are not questions you want people asking while on YOUR site, right?
For this reason, we also expect to see conversion rates drop for sites who are lacking the secure certificate.
The Fix? An SSL Certificate.
Lucky for you, this is a SIMPLE problem to solve!
Start with an SSL certificate. An SSL Certificate will make it safe for your customers to give you their personal information and do business on your site. If you need help getting this, please just let us know and we can handle it for you!
Wait! What is an SSL?
As GoDaddy says, "Think of an SSL certificate as a giant windshield for when you drive on the information super-highway. You wouldn't head out on your local freeway — especially at night in a rural area — without something between you and all the bugs. You likely couldn't see, and besides, you've already had your protein for breakfast. In much the same way, an SSL certificate protects your site — and its visitors — from many digital bugs, worms and other nasty web creatures."
 And please remember – this applies to businesses of ALL SIZES. Most of our clients are small businesses, and we are still working with each of them to solve this potential issue!
 Lastly, in addition to keeping your user's information safe, SSL certificates do provide a small boost from an SEO perspective. What used to be a very small portion of the algorithm continues to grow because user experience is very important to Google.
We know that this is a lot of information, and could potentially be overwhelming. That said, we want to make sure you have all of the correct information.
 We can help! To learn more about how we can help you ensure your site is secure, manage your website on an ongoing basis or help you drive leads with digital marketing and promotional items, contact us today.