If there is one thing that Brooks Brothers knows, it is classy style. 
Created in 1818, the Brooks Brothers brand focuses on tradition and craftsmanship when it comes to style. They have dressed 39 presidents and unlimited leaders and innovators. With more than 200 years of business under their belt, Brooks Brothers is a classic brand with a very high perceived value. 
Here are some of our favorite Brooks Brothers products, now available to customize with your logo:
Brooks Brothers Double Knit Sweater
Available in both ladies and mens, the double knit full zip pays homage to the epitome of casual cool. You will love how this classic branded jacket allows for a broad range of movement and features just the right amount of pop in the details.
This sweater is available as a quarter zip or full zip. 
Brooks Brothers Pima Cotton Pique Polo
This is our new favorite branded polo, we are certain you will love the luxuriously soft and durable shirt. This Brooks Brothers top fits all shapes and sizes and is a stylish staple for all.  Add your logo to the back yoke or sleeve for maximum visibility.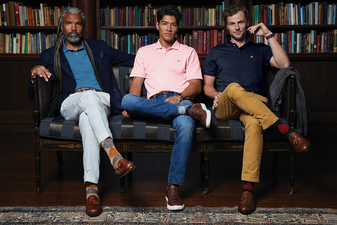 Branded Button Down Shirts from Brooks Brothers
We would be remiss to not feature the classic button down shirts available from Brooks Brothers. 
Casual Oxford Cloth Shirt: Originally invented in 1900, this iconic silhouette embodies the off-duty professional look whether you dress it up or keep it casual. Add your logo to the chest and make an added splash of personalization with the recipient's initials on the sleeve! 
Wrinkle-Free Stretch Nailhead Shirt: Balancing a professional look with business-casual style, the nailhead dress shirt features a subtle two-color pattern and a soft hand. A premium wrinkle-free treatment process keeps it looking sharp and stylish all day. 
No iron? That is a big win! 
Brooks Brothers® Tech Stretch Patterned Shirt: Achieve a polished look and all-day comfort with this game-changing lightweight shirt, a modern interpretation of a timeless silhouette.
Bags, Bags, Bags
We are loving all of the bag options from Brooks Brothers. Whether you are looking for a backpack, duffel bag, dopp kit or briefcase, they have so many options for you to select from. Most bags are available in tan and navy, and all can be personalized with an embroidered logo or initials.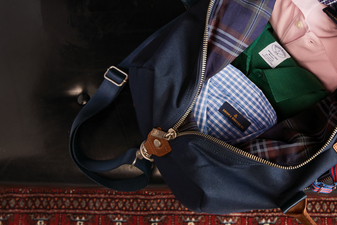 If you are interested in seeing a sample or learning more about our Brooks Brothers apparel, send us a message today!