Time and time again, we talk about how promotional products are a powerful and effective marketing tool.
We have blog posts that deep dive into our favorite promo items, the benefits of using promotional products at trade shows, tips for using promotional products to drive business impact and more! The goal is to further educate you about the value of promotional items and the wide variety of items that we have access to.
But now we want to have some fun with promotional items! Here are five fun facts about our industry:  
1.) The first known promotional product – a commemorative button- traces back to 1789 when George Washington was elected president.
As much as we love history, we think we can brainstorm a few ideas that might take you a little further than a button. But hey, it worked for our nation's #1, and proves that promotional items stand the test of time!
2.) Demographics matter. The Midwest (i.e. Ohio, our home state) has the highest number of logoed outerwear.
Research shows that men prefer shirts and baseball caps, whereas women like pens, bags, and calendars. Always consider your audience when choosing promotional items. We dug up this map of preferred promotional items by state in the US as a refresher: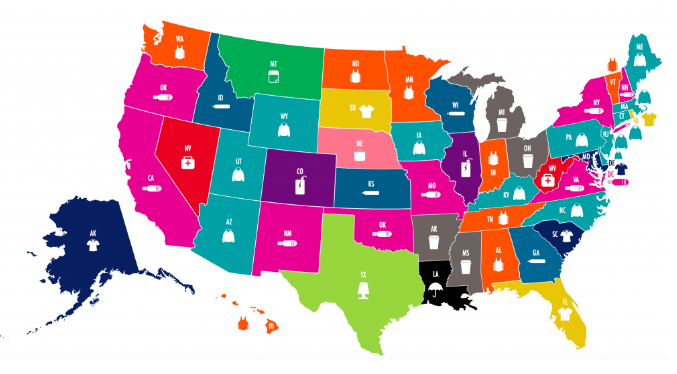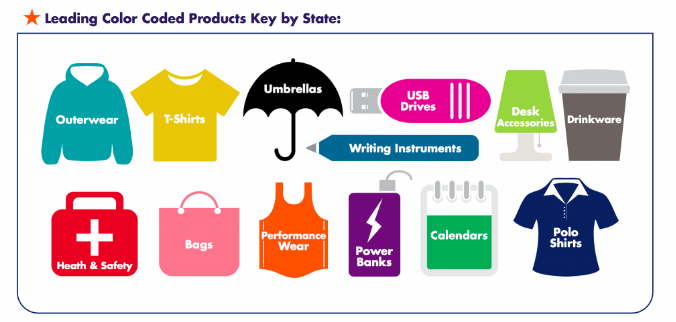 3.) Thirty-one percent of U.S. consumers own a promotional bag, and at one-tenth of a cent, bags tie with writing instruments for the lowest cost per impression of any promotional product in the U.S.
With people's minds constantly shifting and evolving to a more ecological and mindful state, think about the impressions your brand can achieve by distributing logoed reusable grocery bags. Did we just redefine win-win?
4.) Forty-eight percent of consumers would like to receive promotional products more often.
Remember a few weeks ago when we told you that everyone loves something for free? And when people love something, they use it! And they tell people about it! Stats like this prove the value of promotional items for any business looking to create awareness.
5.) Promotional products draw as many as 500% more referrals from satisfied customers than an appeal letter alone.
Referral business is as good as gold; need we say more?
We love brainstorming new ideas to keep your brand fresh. Contact us today for custom promotional item ideas for your company!